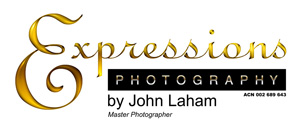 A true visionary, John Laham is firstly an artist, using light, shape and texture to transform images into works of Art to be enjoyed today and admired by grandchildren in the future. John's sense of humour makes it easy to be yourself and allows him to create images which are treasured by all for their superb intrinsic quality, beauty and emotion.
Blending his love of Art and People has led John to be recognised by his peers with many awards including the prestigious AIPP including the Australian Portrait Photographer of the year.
Our services are based on the highest quality product and service to our clients. What sets us apart is our one on one service with attention to detail. We strive on customer satisfaction to keep our business relationship ongoing from the wedding to their newborn than to their children's weddings.
Don't allow your extraordinary moments to be lost in delay or mediocracy. John Laham will photograph your wedding personally to ensure the highest level of creativity and service. Visit our website today.